The Organic Food Chain Pty Ltd (OFC) is an approved organic certifying body recognised by the Department of Agriculture, Fisheries and Forestry under the Export Control (Organic Goods) Rules 2021. We offer  certification to Australia's national organic export standard, the National Standard for Organic and Bio-Dynamic Produce.
OFC are committed to fast, friendly service while ensuring our operators are compliant to the national organic export standard of Australia and other international organic certification standards. We achieve this through regular inspection and sampling of our certified operators.
OFC is a family owned & operated business. Our Founder, Keith Morris, was a Director of OFC since OFC started organic certification services in 1996 until his retirement in 2023. Keith and his wife Rhondda are retired certified organic farmers with extensive farming knowledge spanning more than 40 years, 35 years of which were spent practicing organic farming principles. Rhondda grew up on a sugarcane farm in Tully, Queensland.
Keith & Rhondda started farming that same sugarcane farm in 1977 and soon after became interested in farming organically and started applying those principals to their sugarcane farm, They later started farming pawpaws (papaya), bananas and a variety of tropical fruit and vegetables using those same organic principles, much to the amusement of their farming neighbours who thought they were crazy and would never be able to farm successfully without the use of chemicals. Being organic certainly wasn't fashionable in the early 1980's! Of course, Keith & Rhondda proved them wrong and went on to become certified organic farmers in 1994. Over the years, they have organically farmed pawpaw, banana, sweet potato, pumpkin, a variety of exotic fruits and vegetables, cattle, goats, and sheep.
Keith was involved in the writing of the OFC organic standard and part of this was later incorporated into the current Australian national organic export standard, the National Standard for Organic and Bio-Dynamic Produce. In 2012, Keith was awarded a Lifetime Achievement Award by the Organic Federation of Australia in recognition of his services to the organic industry in Australia.
Keith & Rhondda's daughter, Kari Martin, is a Director of OFC and has been the General Manager since 2016. Kari is a Chartered Accountant who worked in public practice in business services for over 20 years prior to joining OFC. While at school, Kari worked on the family certified organic farm. More recently, Kari and her husband Jason operated a vermiculture business for three years.
OFC is accredited with JAS-ANZ to ISO/IEC 17065: 2013 Conformity assessment – Requirements for bodies certifying products, processes and services.
OFC is registered with the European Union as an Organic Certifying Body complying with Regulation EC 2018/848.
Keith Morris
Founder of OFC 
.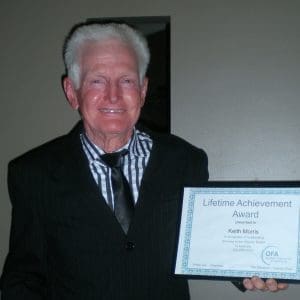 Kari Martin
Director & General Manager